Since our last article Maintaining your leather shoes: the five essentialsIf you're a shoe enthusiast, you know the right reflexes to take good care of your shoes by storing, wearing and protecting them from humidity with assiduity. However, there is still one essential point that needs to be clarified.
How to protect and shine your leather shoes?
Now you know that, maintain Taking care of your shoes means giving them a longer life. Here, Subtle reviews the tips and details that make all the difference: the right habits, the right products for your leather shoes and step-by-step shoe care.
DISCIPLINE, WHAT THE HELL!
Take the time to unlace the shoe before you slip your foot in. Far from being a tedious detail, you will avoid the sagging of the buttress of your shoes (reinforcement of the rear part of the shoe). The best students will use a shoehorn, an effective accessory against the deterioration of the heel contour.
Don't hesitate to take a short minute to brush your shoes after each wear. This removes dust and excess shoe polish that could clog pores. It only takes a minute, but it's a great service to them.
USE THE RIGHT PRODUCTS
Beware of grandmother's recipes and other dubious methods for caring for your leather shoes: these tips are not universal. So leave olive oil in the kitchen and baby formula in the bathroom. There are already a multitude of shoe care products available: paste wax, cream wax, liquid wax, etc. The active ingredient in these products is wax, hence the name shoe polish. When in doubt, prefer paste or cream products: these are the ones that contain the most wax.
These shoe polish products are to be found at your cobbler's. Although large stores offer you products that look similar at low prices, they contain silicone that will eventually crack the leather of your shoes. We advise you the brands Saphir, Grison or Collonil, safe values. Similarly, reserve the use of grease for shoes made of greasy leather. On your smooth leathers, they could stain them or soften their finish.
The purpose of waxing is to create a protective film on the surface of the leather. It can also recolour, waterproof and make your shoe even shinier, depending on the type of product chosen. Ask your shoemaker for advice on choosing the best product for your leather item.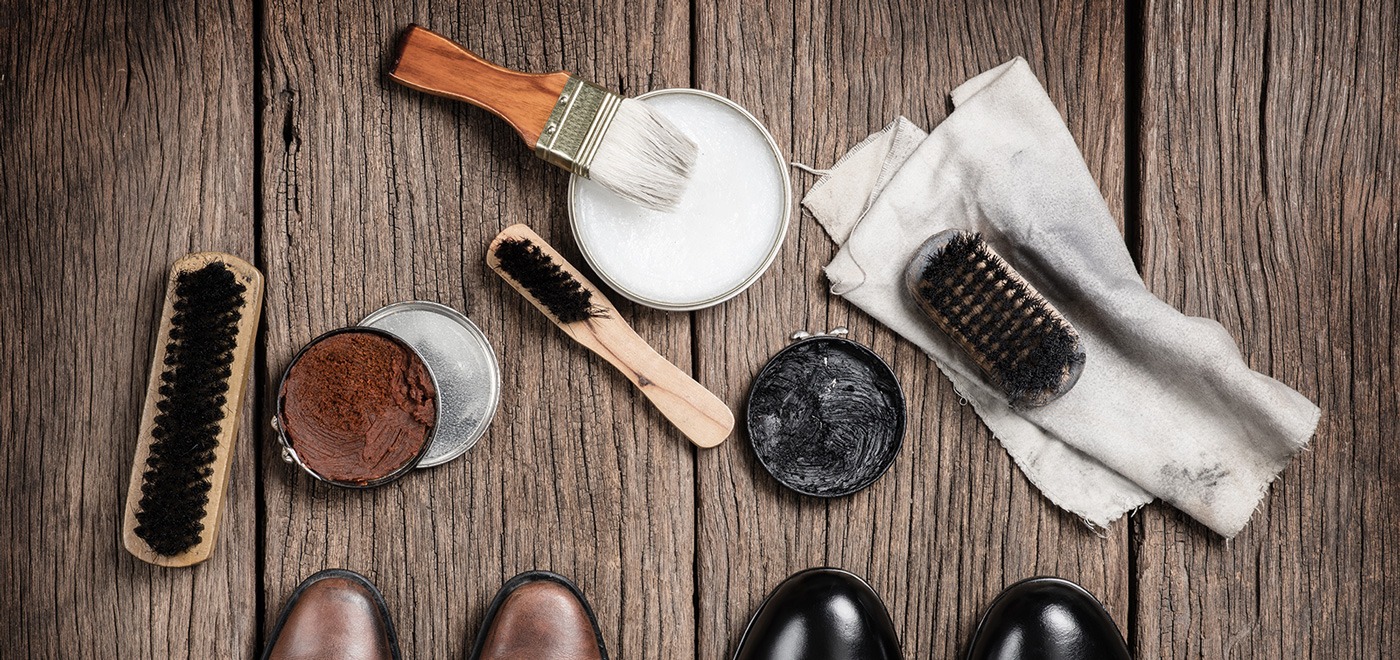 EFFECTIVELY MAINTAIN YOUR SMOOTH LEATHER SHOES
Before detailing how to take care of your smooth leather shoes, remember that your favourite Subtle shoes are made of vegetable smooth leather. This point implies a specific detail: even before wearing them for the first time, we advise you to waterproof them. Make sure that the spray is as fine and even as possible. Also, when cleaning it, avoid getting it wet. "You may ask, "Why? Because vegetable leather does not have a finish like other leathers, which makes it more sensitive to water. Waterproofing before the first wear and regularly afterwards will therefore protect them and increase their longevity.
As for your maintenance routine, start by removing the laces from your shoes, then put on the shoe trees. This will allow you to apply your products right into the creases of wear and tear.
Dust off your shoes (with a brush - also called a shoe scraper). This will remove any dust that may eventually clog the pores of the leather, especially after polishing.
In order to remove any remaining dirt (sweat and sebum in particular), you can also clean your shoes with a cleansing milk, using a chamois.
Then apply your wax-based product with a cotton (or chamois) cloth to protect the surface of your leather, using concentric movements. Do not use too much product, as this will affect the finish.
Leave on for half an hour, then polish. This brushing gesture removes the excess dried shoe polish and makes your shoe shine.
It's official: you're now a pro at shoeshine. When will you be promoted?