Discover our eco-friendly sneakers
Consume differently, in accordance with your values
Since the creation of the brand, Subtle's leitmotiv has been to create shoes to last. Reworking the basics and timeless to anchor them in the slow fashion, you will have understood. In this approach, the Sigma ethical sneaker has its vegan version: the Sigma ecru recycled sneaker. This ethical sneaker for women and men is a eco responsible sneaker since it integrates recycled materials in its composition, and no materials of animal origin. This is also the case of another sneaker model of the brand: the Epsilon. The ethical sneaker of this range is the Metzik, which is made of recycled textile while remaining vegan.
What are eco-friendly sneakers?
A eco responsible shoes can take on several aspects. Our Alpha derbies are made of vegetable leather: we do not succumb to the siren call of chrome tanning, which is particularly polluting and, among other things, allergenic for the skin. It can therefore be considered as an ethical shoe for men, just like its high version for women.
Same principle for the Delta: a pair of ethical sneakers created from vegetable leather. Like all the models of the brand, they were made in a small Portuguese workshop in good working conditions, far from those that can be found in Asian countries.
Our Epsilon model is also an ethical and vegan sneaker, as it is free of animal materials. Its version of recycled sneaker, the Epsilon MetzikThe Sigma full white sneaker features a recycled cotton upper. The Sigma ecru, a vegan version of the Sigma full white or white & red, are also recycled sneakers, with three different materials: cotton, plastic from recycled bottles and pineapple leather.
Recycled and slow fashion sneakers
As an ethical shoe brand, Subtle wanted to create sneakers made of recycled material. This is how the Epsilon Metzik was born. The upper is made of recycled cotton at 70%. Moreover, its style is original while remaining plain, in order to integrate it in the slow fashion. Easy to wear, this ethical sneaker for women is original without responding to the imposition of trends, worthy of fast fashion.
Following this model, the brand wanted to go further and make a recycled plastic sneaker, but not only. After a year of reflection and testing, our designer created the Sigma ecru, a vegan version of the original Sigma. Three recycled materials give life to this 
Eco-responsible basketball. Firstly, plastic, or more precisely PU (polyester) from recycled plastic bottles. Secondly, the fabric of the shoe is woven with recycled cotton. Finally, the third component of the Sigma ecru upper is pinatex. This material, a great alternative to animal leather, is a pineapple leather. This leather, made from pineapple waste, is worthy of an eco responsible, ethical and zero waste approach.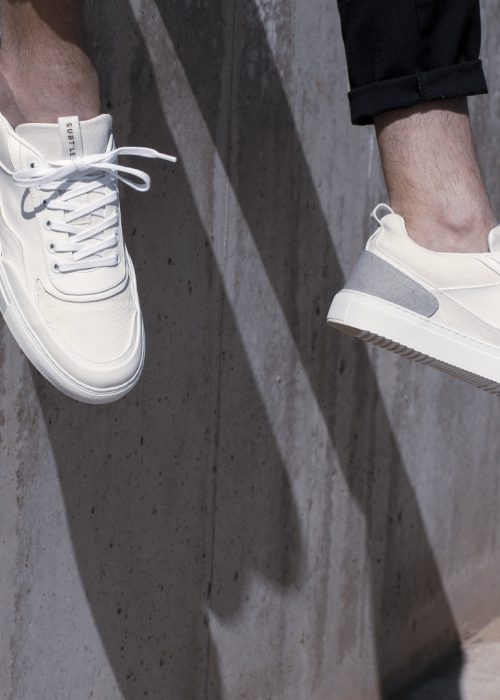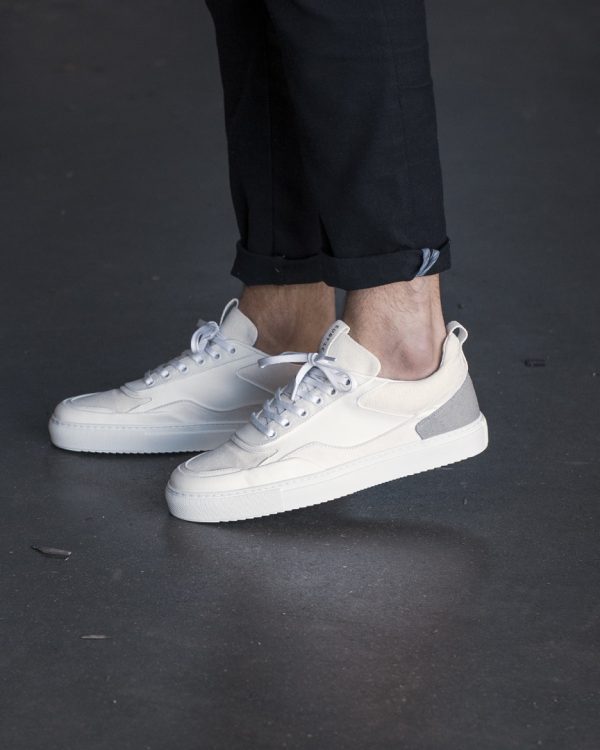 Recycled sneakers eco responsible
Every new shoe production requires materials and energy and therefore has a carbon footprint. To reduce this footprint, Subtle wants to use materials that have already had a life. By reusing yesterday's components to give them a new purpose, we can reuse what is in our hands, create less waste, and help save the planet. To consume better is to choose products created in an ethical way, with a limited impact on the environment and materials selected with care, never at random. It is for all these reasons that the Epsilon Metzik and the Sigma ecru are made of recycled materials. Our goal: to give a new life to yesterday's cottons and plastic bottles, to create our future.
Our recycled plastic sneaker: the Sigma ecru
The Sigma ecru features three different recycled materials: polyester from recycled plastic bottles, recycled cotton and pinatex, also known as "pineapple leather". Recycling what can be considered waste is part of the circular economy: yesterday's waste is tomorrow's resource. At Subtle, we are convinced that recycling and reducing waste is a key issue for the future. Many would point to the use of plastic in the manufacture of our shoes. There are two reasons for this choice. Firstly, polyester is a material that is not of animal origin. Secondly, the recycled polyester used in the Sigma ecru model is made from plastic bottles. Although the entire Subtle team carries a stainless steel bottle everywhere we go, we cannot deny that a majority of consumers still use plastic bottles. What should we do? Deny the problem or make lemonade with our lemons, as our Anglo-Saxon neighbours would say ("when life gives you lemons, make lemonade")? While waiting for everyone to go zero waste, we suggest you some recycled plastic sneakersand we will make sneakers out of recycled material to contribute to the circular economy.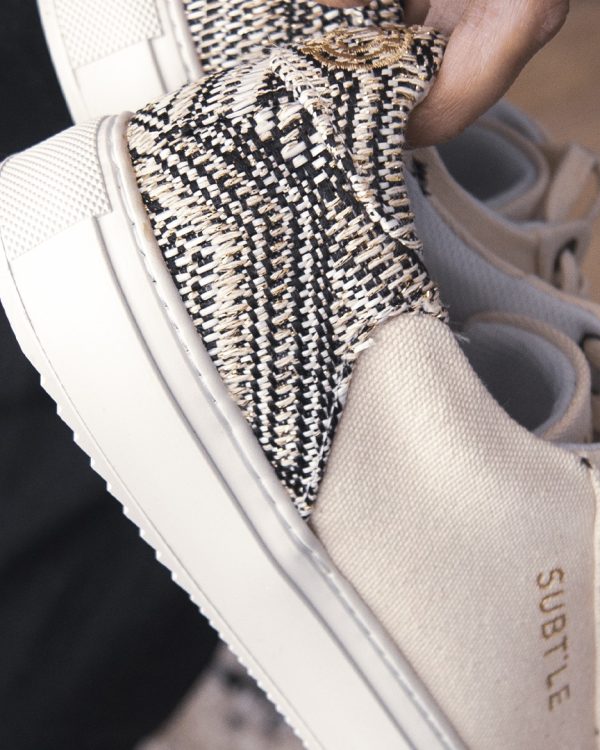 Recycled material sneaker
Our other recycled sneaker: the Epsilon Metzik
Like the Sigma ecru sneakers, the Epsilon Metzik are also recycled sneakers. It is more precisely the upper of this sneaker which is made of recycled cotton. Like the other shoes of our ethical shoe brand, the Metzik are carefully made in a Portuguese workshop. This one has been chosen for its know-how but also for the working conditions of its employees. The Metzik are part of the Epsilon collection. This collection offers ethical vegan sneakersThe Epsilon Metzik are made of recycled materials, without any animal components. Vegan and with recycled and still recyclable components, the Epsilon Metzik are recycled sneakers that we consider worthy of the slow fashion as well as the circular economy.
Ethical men's shoes for every occasion
Subtle offers you ethical shoes for all styles and all occasions. We have in heart to create different shoes but always timeless. Thus, you have the possibility to wear "classics", timeless and therefore far from trends and fast fashion. In addition to being slow fashion, your ethical shoes are easy to match. We don't need ten pairs of shoes in our closet. Investing in two good pairs of quality shoes is enough. This will also allow you to practice alternation (read more about shoe care here). A pair of vegetable leather derbies for work, dates and special occasions, and a pair of eco responsible sneakersWhy not even a pair of recycled sneakers, for everyday, for a more casual look.
Ethical sneakers for women that are easy to wear
To paraphrase Coco Chanel, "Fashions go out of fashion, style never does". Advertisements push us to follow a multitude of trends that are constantly being renewed. Faced with the whirlwind of overconsumption, we can choose alternatives. Buying less but better is part of these more ethical consumption choices. Instead of buying a pair of 40€ shoes every year, which usually don't last more than a year, why not invest 120€ every three years - or more, and have a nice pair of ethical shoes or sneakers for women? In addition to enjoying yourself, you will contribute to producing less but better, the carbon footprint of your shoes will be smaller, and the planet will be better off. The icing on the cake, opt for a pair of leather shoes that will be biodegradable, or a pair of recycled sneakers. Finally, let's ask ourselves one last question: how many pairs of shoes do we really need? Let's dare to go further together!
All about eco-friendly shoes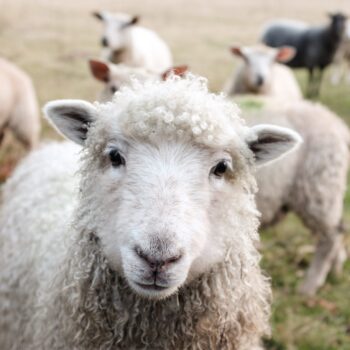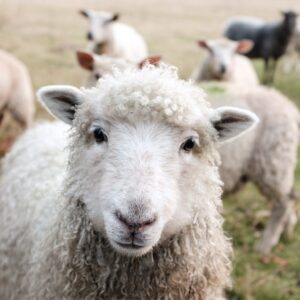 In an advertisement, in a blog or in a conversation, you must have heard it: "vegan". This word implies a set of
Read more "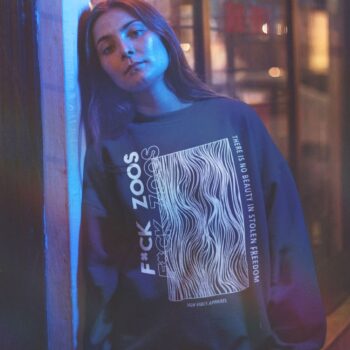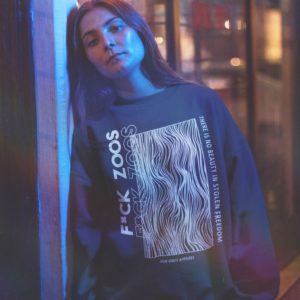 You now have your vegan Subtle Shoes and you want to push your vegan consumption to the next level.
Read more "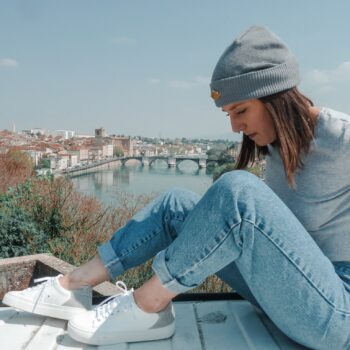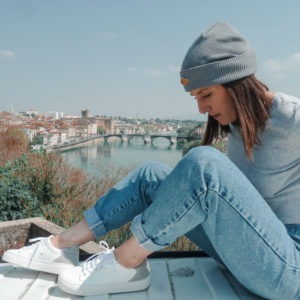 Subtle Street Style is back for your greatest pleasure with new visuals and a new interview. After the
Read more "